Interpol @ Bowery Ballroom: Say Hello To The Angels
With a dozen dimly lit light bulbs hovering over the Bowery stage, Interpol performed their smallest NYC show in nearly five years. Selecting three new tracks from their upcoming LP,
Our Love To Admire
, and a bevy of tunes from their first two releases, Interpol erased all pre-concert mumblings of disappearing magic.
Opening with
Admire
's commencing track, 'Pioneer To The Falls', there was an odd but endearing silence in the venue (at least in the first half of the ballroom), hanging on every lyric uttered from Paul Banks' bravado. As was the case when I saw Interpol at Curiosa Festival back in '04, pre-
Antics
, the band chose not to focus primarily on forthcoming singles but instead directed their attention towards crowd favorites.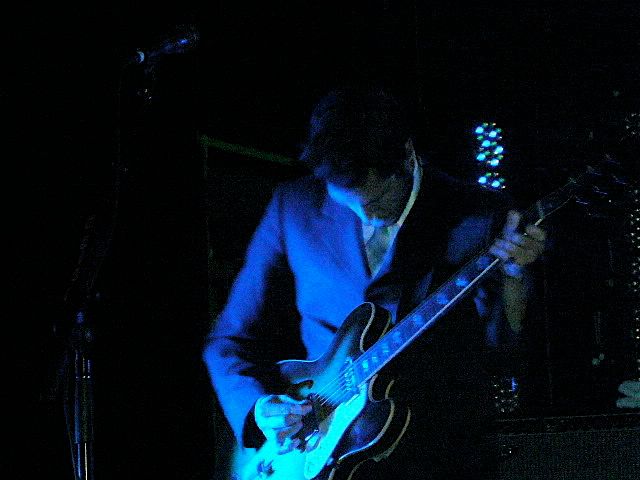 The last time Interpol performed at Bowery Ballroom was during the final nights of the
Turn On The Bright Lights
tour when the fashionable foursome played three consecutive evenings down on Delancey Street. For that very reason, it was particularly enticing to hear the debut's tracks ('Leif Erikson' and 'Stella' were surely highlights) played in such an intimate setting once again. There was undoubtedly a feeling of nostalgia running rampant in the air over the course of the set's eighty minutes.
The boys will be back in town on July 10th (venue TBD) to promote
Admire
on the day of its official North American release. To sample
Admire
's first single, 'The Heinlich Maneuver', hop over to the much-loved
Hype Machine.
For an Interpol classic, see below.
Setlist:
Pioneer To The Falls/Obstacle 1/NARC/Say Hello To The Angels/Take You On A Cruise/Mammoth/Slow Hands/Leif Erikson/The Heinrich Manuever/Evil/Not Even Jail//Length Of Love/Stella Was A Diver And She Was Always Down/PDA
MP3:
Interpol - Not Even Jail
Labels: bowery ballroom, concert review, interpol