The Gossip & Shy Child @ Webster: Heaven Is A Place On Earth
It's a difficult task to select a favorite moment from last night's spectacular Gossip gig.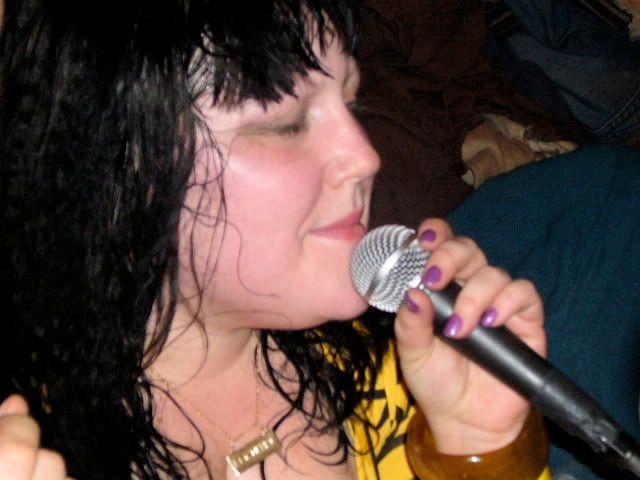 The evening was a 75 minute musical cyclone that included (but was not limited to) an array of impromptu covers (Pearl Jam's 'Jeremy', Black Eyed Peas' 'My Humps', the
Friends
theme song & Chaka Khan's 'Through The Fire'), a handful of legitimate covers (Dolly Parton's '9 To 5', Wham's 'Careless Whisper' & Aaliyah's 'Are U That Someobdy?'), a full-on stage invasion and a finale which had every attendee smiling ear to ear with glee.
For those final few minutes of the show, Beth Ditto brought her crimped hair, yellow heels and magnetic voice onto the floor section of Webster Hall for an a cappella number (which included a brief dance off with yours truly). Frosting on the cake came in the form of a sly Pitchfork swipe plus a succinct diatribe about the state of the world. God bless The Gossip!
Visit The Gossip
at their official MySpace page.
One final photograph & MP3 below.
MP3:
The Gossip - Careless Whisper
[
alt link
]
Opening duties came from New York based keytar & drums duo, Shy Child. Some may be eager to lump Shy Child into the nu-wave pool. Others wish to categorize the band as a post punkers. Additionally, I've seen Shy Child's name paired with 'indie dance' countless times. The truth is that their sound encompasses all of those genres and transcends each one. The hybrid force that the twosome emanates is both ardent & delectable.
Learn all about their sophomore LP,
Noise Won't Stop
,
here.
Visit Shy Child
on MySpace.
MP3:
Shy Child - Summer
Labels: concert review, shy child, the gossip, webster hall