Ted Leo & The Thermals @ McCarren Park: Sweat It Out
Another scorching Sunday, another visit to Williamsburg's McCarren Park. This week we were treated to the always-delightful sounds of The Thermals & Ted Leo, respectively.
While I've seen Ted more times than I can recall over the last six years, I have to declare that yesterday's show was probably the best I've witnessed of him and The Pharmacists, to date. Performing a bevy of tunes from each of their studio albums (focus on
Living With The Living
), Ted & the gang failed to falter under the excruciating Brooklyn heat.
Including Music Slut faves - 'Where Have All The Rude Boys Gone? + 'Me & Mia' - early into the set, those in attendance were even graced with an impromptu & undeniably fabulous cover of Daft Punk's 'One More Time' (something tells me that the track will be a mega-success on
The Hype Machine
as soon as it's properly ripped)! Superb.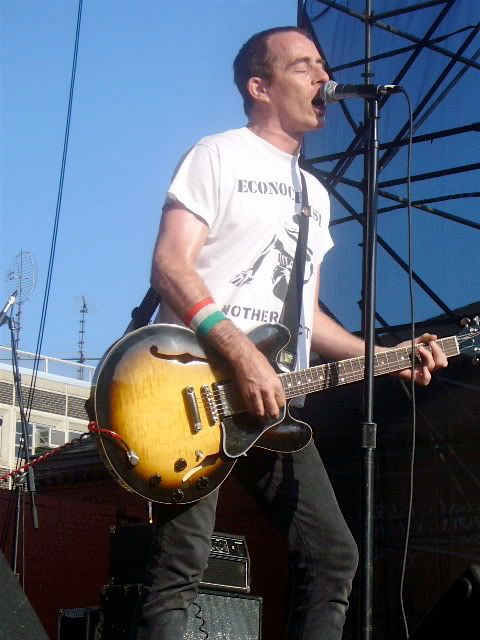 View Ted Leo + The Pharmacists' upcoming tour dates
here at TL's MySpace page.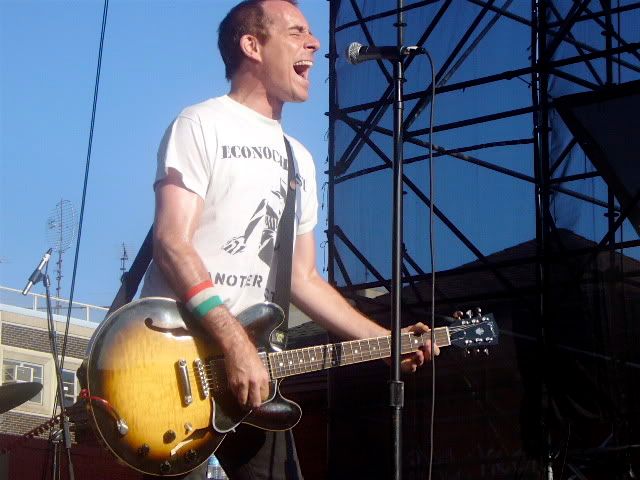 MP3:
Ted Leo - Bomb.Repeat.Bomb
The Thermals came out to a rapturous applause sometime around 4:30 and performed an impressive best-of 45-minute set. The last time I saw The Thermals, they wowed me with an abbreviated stint during CMJ at Studio B (read my
mini-review here
).
The Portland-based trio have truly carved a great niche for themselves since their formation, back in 2002. The Sub Pop signees produce some of the most engaging post-punk/straightforward indie-rock anthems in recent memory. I predict a long and well-respected career for The Thermals. Yesterday's show only confirmed my postulation.
Keep up to date on all things Thermals
here at the band's official site.
Next week's final McCarren gig features Ghostland Observatory & Yacht, amongst other unannounced acts.
Keep an eye on ThePoolParties.com for more info as it's released.
MP3:
The Thermals - No Culture Icons
Labels: concert review, mccarren park, ted leo, the thermals